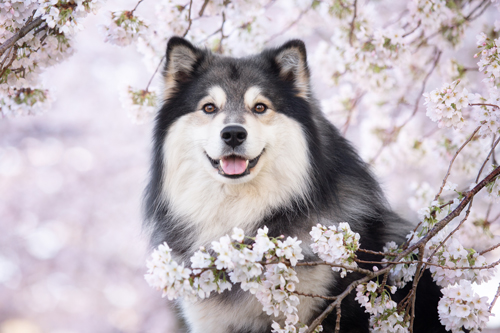 On October 1st 2014 our second Finnish Laphund Bosco (Valo) was born. Bosco is a son of our Rowan (Simba) and Vita (Lapinlumon Wilhelmiina).
A very special experience to 'create' your own puppy. Valo means "light" in Finnish. He is the lightest of the 6 puppies, light-footed and lights up our lives 😉 Bosco is an energetic, but a very smart, social and affectionate man. Bosco has passed the Puppy course and Obedience courses. From the age of 6 to 14 months we have followed various Hoopers courses. Bosco loves to work for you. Bosco is also very smart and has a soft character and really cuddly.
In February 2016 we started the basic course in search and rescue work and in March 2016 with agility. We are currently following training courses in these dog sports and sheep herding.
In January 2018 and 2020 we participated in an avalanche training in Oberstdorf, Bosco did a fantastic job! Bosco also has a very nice herding instinct. At the moment we regularly attend lessons in sheep herding at Jaap Kremer (Uffelte). In October 2018 we participated in a competition and he achieved a shared second place!
Bosco is available as a stud for the right girl. For more information please contact me. For 2021 we have 1 puppy buyer for his offspring.
• On 22-11-2017 there are at Francien Bijlenga of Kennel Jalanjälki 4 puppies born from Namu & Bosco. Beautiful fatties, 2 males and 2 females with weights between 374 – 394 grams.
• On 11-11-2018 7 puppies of Honey Bear du Domaine d'Arinelle Bianca & Bosco were born at Gerda Beeckman of kennel Le Jardin de Laponie. A beautiful litter of 4 bitches and 3 males, 3 sables, 1 wolfsable, 2 black & tan and to our surprise a domino!!
• 15-06-2019, kennel vom Heidersiefen in Germany, 1 male and 1 female were born. Male Loki (Bjarki) is a wild sable color and the black and tan female Bjelle stays with the breeder.
• Very happy to announce; Bosco is becoming a daddy in the beginning of August 2020. His second litter in the Netherlands will be with the lovely Jaana (Odette Jaana du Jardin de Laponie) from kennel Jewel of Suomessa (Marjolein Roof van Zuidam).
🇳🇱️🏆 29 February 2020 Bosco became NL Champion at the International Martinidogshow in Groningen 🏆🇳🇱️
–
Pictures
–
Pedigree & Results
NHSB 2984971
ECVO: 27-05-2020 tested free (also tested on: 11/03/2016, 10/03/2017, 02/03/2018 and 08/03/2019 free)
Hips: HD A, Norberg 33
DNA Pra-prcd: Genotype n/n free
Pompe disease: Genotype N/N free
DM: carrier, tested by Laboklin
CMR: free, tested by Laboklin
DNA profile available (Raad van Beheer)
Height: 51,5 cm
Coefficient of inbreeding: 2.89%
https://finnishlapphund.breedarchive.com/animal/view/valo-b78ae0da-0cff-45d9-8ea5-688464f6b97f
Semen collected & safely stored, it is available for the right girl.

–
Offspring
Born on 22-11-2017 from Bosco & Namu (Vasaran Arvine Namu) at kennel Jalanjälki, Francien Bijlenga.
Herkko – Hugo (Toivo) – Hilja – Helka (Helkja)
On 11-11-2018 7 puppies were born at Gerda Beeckman of kennel Le Jardin de Laponie, from Honey Bear du Domaine d'Arinelle Bianca & Bosco.
Rowan Django – Raito – Rowvi Koko – Ragna Lena – Rock with me (Sansa) – Ryuna and Raskafinn (Finn)
Born on 15-06-2019 2 puppies at kennel vom Heidersiefen, van Lapinlumon Raska & Bosco, 1 male Loki (Bjarki) & 1 female Bjelle.
–
Avalanche course 2020
In January 2020 I participated with Rowan & Bosco in the advanced avalanche training.


Bosco to the rescue:
Compilation of avalanche course 2020:
https://www.youtube.com/watch?v=MABhqiTLCME&feature=youtu.be
–
Avalanche course 2018
In January 2018 I participated with Rowan and Bosco in an avalanche training in Oberstdorf.
This was a great experience and the boys both done very well!

Movie of Bosco who came to rescue me: Lawinewerk2018_dag4_2
Article Avalanche Workcourse 2018 in FLVN club magazine: Lawinewerk_2018_FLVN_clubblad
Ve-
Bosco @ work
Obedience – Hoopers – Agility – Search & Rescue Work – Avalanche Work course – Sheep Herding
His offspring are also nice workers (pictures of Toivo, Hilja & Helka):
–
Show results
29 february 2020 – Martinidogshow Groningen
Judge: Dhr. John Walsh Sr. (IE)
Open klass: 1 – Excellent – R. CAC/R. CACIB = Dutch Champion! 🇳🇱️🏆
8 september 2019 – FLVN Clubmatch
Judge: Mevr. Tiny Hensema (NL)
Open klass: Excellent
1 maart 2019 – Jubileumshow Martinidogshow 2019
Judge: Mvr. Nadia Timmermans-Kadenko (NL)
Open klass: 1 – Excellent – Best Male – CAC/CACIB

23 september 2018 – Keesachtigen- & Poolhondenshow
Judge: Mvr. W Roem (NL)
Open klass: 2 – Excellent
8 september 2018 – Hondententoonstelling Rotterdam
Judge: Dhr. Eddie Patterson (IE)
Open klass: 1 – Excellent – Best Male – Best of Breed – CAC/CACIB
18 september 2016 – Keesachtigen- & Poolhondenshow
Judge: Mevr. J.J. Vink (NL)
Tussen klass: 2 – Excellent

4 september 2016 – Hondententoonstelling Rotterdam
Judge: Mevr. Paula Heikkinen-Lehkonen (FI)
Tussen klass: 1 – Very good

3 september 2016 – Hondententoonstelling Rotterdam
Judge: Mevr. Tiny Hensema (NL)
Tussen klass: 1 – Excellent – CAC/CACIB
5 september 2015 – FLVN Kampioensclubmatch
Judge: Mevr. E. Weijenborg-Weggemans (NL)
Youht klass: 4 – Very good